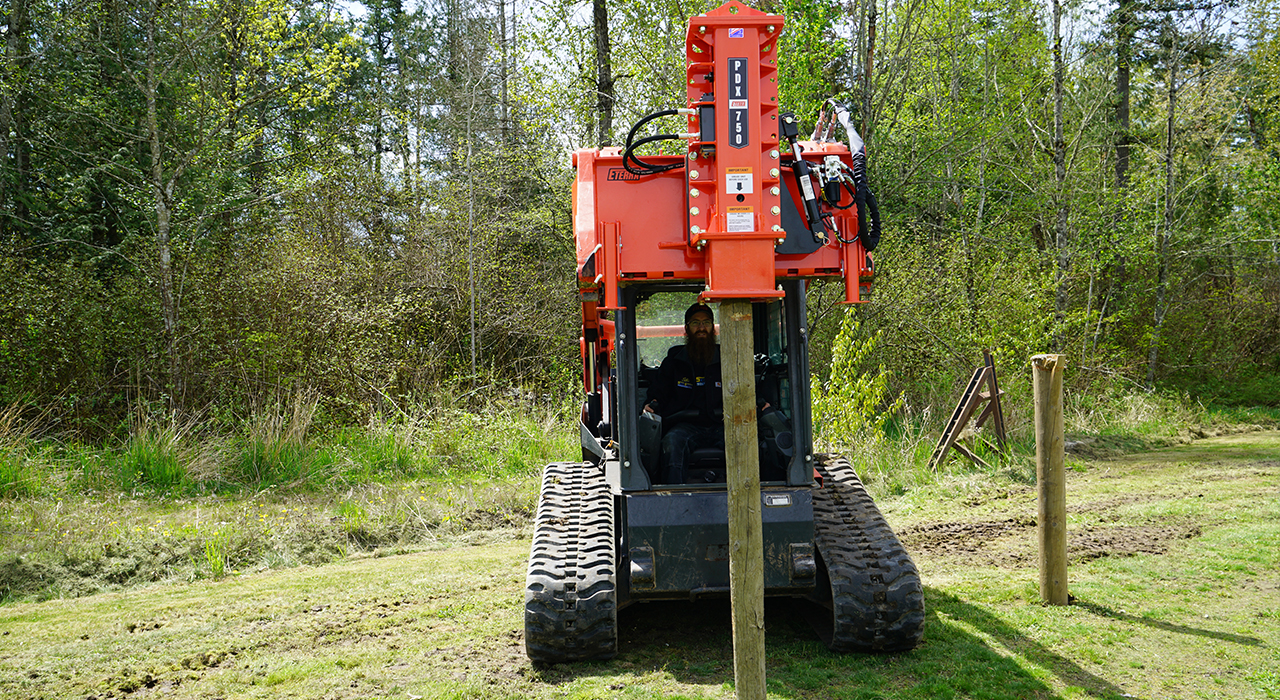 As the originators of the "Breaker Style" Post Driver, Eterra knows what it takes to design, engineer and manufacture a heavy-duty Post Driving Attachment that delivers results. The newest addition to their family of Skid Steer, Compact Track Loader, and Excavator Post Drivers is the PDX-750. The PDX-750 Breaker Style Post Driver builds upon the industry-leading features of previous models, resulting in a fully loaded and dynamic post driving attachment.
Breaker Style Post Driver means the PDX-750 takes advantage of tried-and-true concrete breaking technology in order to exert maximum force when driving posts. A nitrogen-charged powercell is contained by Eterra's heavy duty housing. The strength of this housing ensure maximum protection and durability, allowing the PDX-750 to pound post after post without losing any driving power or shaking loose and falling apart from the constant vibration.
Optional integrated Tilt Functionality is available with the PDX-750, providing up to 15 degrees of angle side-to-side for operators working in uneven conditions. The tilt mechanism on this attachment is as compact as possible, keeping the post driver close to the machine, allowing for the full weight of the machine to be utilized when exerting downforce.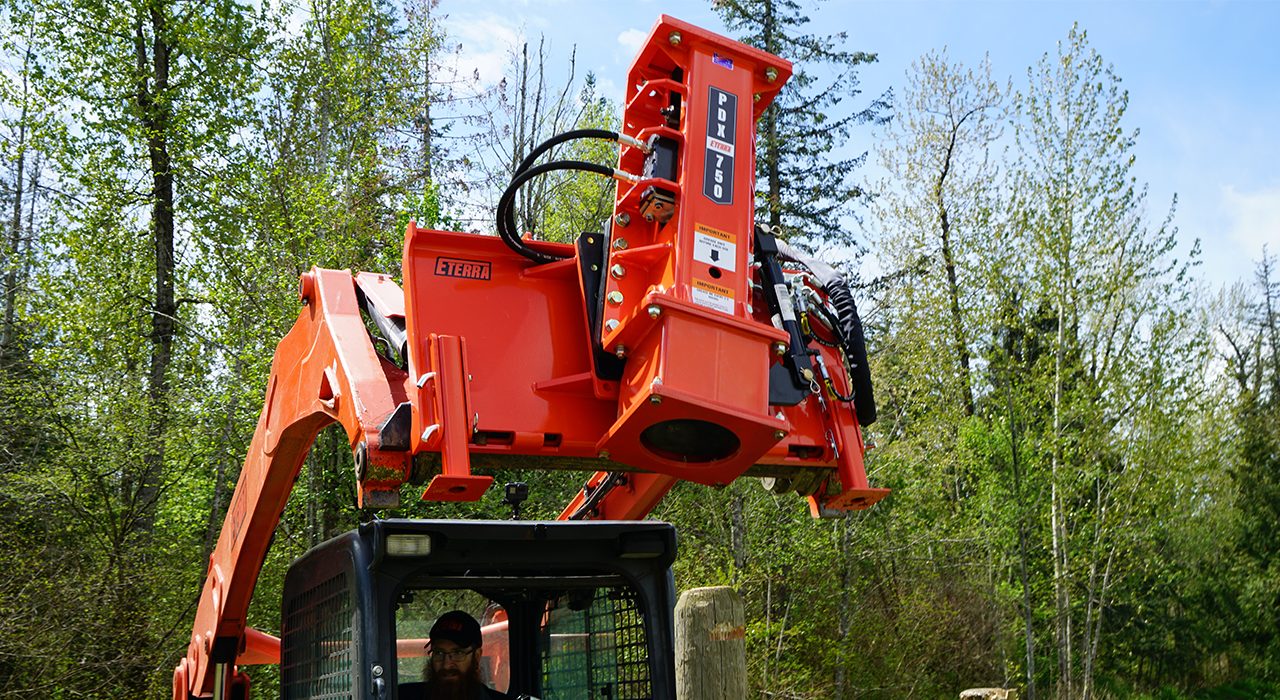 In order to increase versatility and give operators a variety of post driving options, the PDX-750 comes available with two driver head options. Customers can select from an open-style, coned driver head that can accommodate up to an 8" post, or a flat-cup driver head that includes an enclosed post guide and multiple eyelets. The flat-cut style includes four eyelet options for a wide range of post sizes an an additional housing/guide that can handle odd or non-traditional post shapes. The innovative design of the PDX-750 allows for easy transition from either driver head options, and customers have the option to purchase both together. These driver heads are made from 4140 treated, American-Made steel, so you can drive posts with confidence knowing your components are strong and reliable.
The PDX-750 boasts even more functionality and time-saving efficiency with the ability to quickly swap out the attachment's driver head for a 5-foot concrete breaker tool. Install the breaker tool when you encounter excess concrete in your way while driving, or when operating in rocky or dense soil that requires pre-driving.
Revolutionary electrical control options ensure that Skid Steer and Compact Track Loader users will be able to operate the PDX-750's tilt function on any machine, while Eterra's mounting system allows for simple and easy bolt-on of Excavator and Backhoe couplers, making it compatible and effective on a wide-range of heavy equipment.
All of Eterra's Post Drivers are designed and assembled in the USA with American and European components. Eterra is proud to offer American-Made Attachments that serious operators can rely on day-in and day-out. Eterra invests in this process so that their customers can complete work on time, without delay, and without fearing their equipment will experience costly break-down, damage or down time when being put to the test on the job.
Learn more about this incredible attachment: