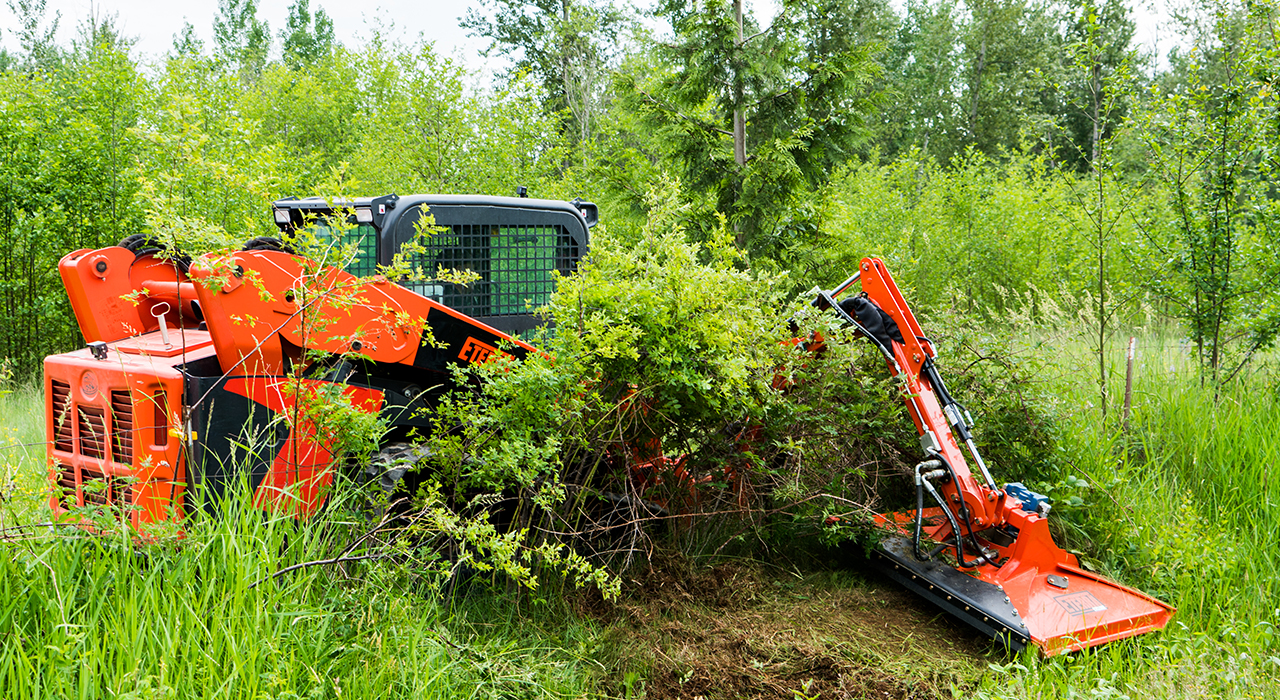 Drawing inspiration from the success of the quality flail and sickle bar mowers, the Eterra Cyclone 48" and 60" Rotary Brush Cutter is the most forward thinking rotary mower on the market. Much of its design specifications come directly from the Typhoon Skid Steer Brush Cutter — the premier full-sized clearing skid steer mower engineered and manufactured by Eterra Attachments, LLC. Designed for virtually any boom mounted system (such as Eterra's Raptor Skid Steer Boom Arm) or backhoes and excavators in a weight class between 6000 lbs to 30,000 lbs with the clamp adapters, the cutting capacity of this attachment for both the 48" and 60" is up to 6 inches. The hydraulic flows from 12-40 GPM at 3000 PSI with an impressive cutter shaft rotation speed of 1300-1500 RPM. As an industrial strength cutter, this 600 lbs (excluding the mount) attachment is lighter than the other rotary mowers on the market and therefore easily cuts in all directions without the worry of tipping the machine on inclines .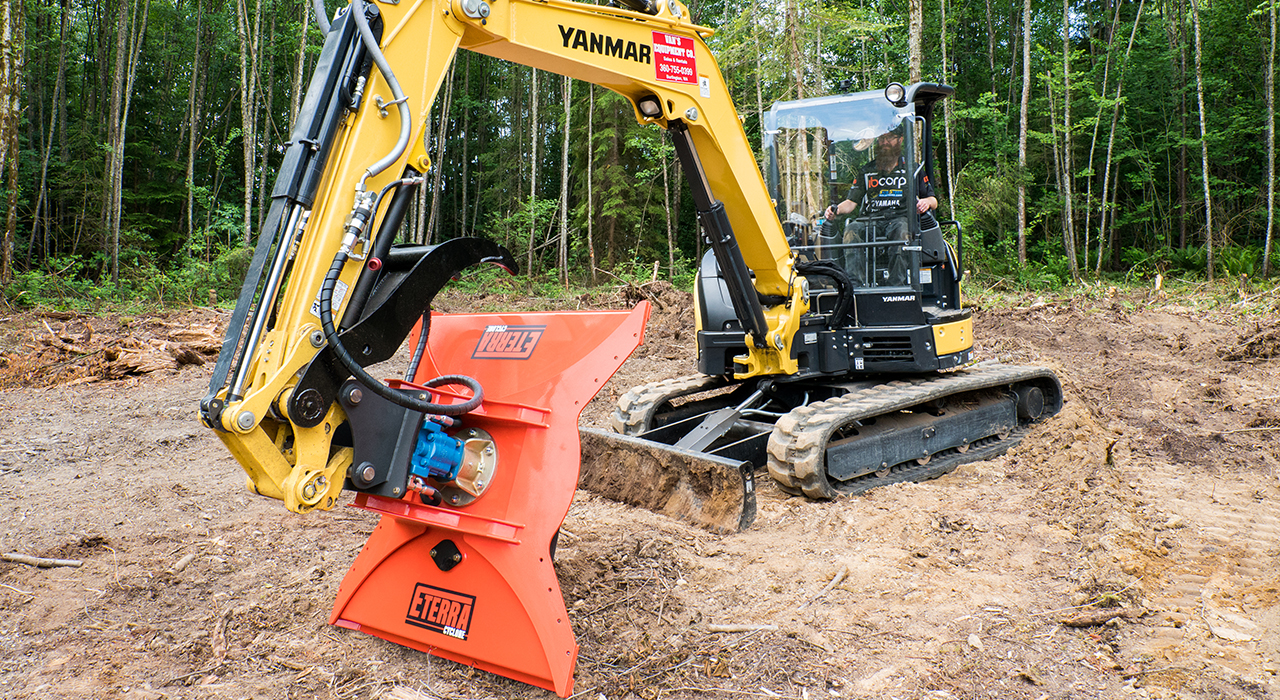 Unlike other rotary mowers, the removable rubber dam gates on the front and rear of the open-faced cutter allows an operator to customize their cutter to work with the environment. For heavy brush clearing, remove the cutter gates to increase the reach of the blades for deeper cutting. Replace the gates for clearing in areas of heavier traffic where the materials being ejected must be controlled. The housing is designed with ample fillets and gussets to not only reinforce the structure but to also increase the lift capabilities when pulling materials up into the blade. This ensures a a consistent and smoother cut.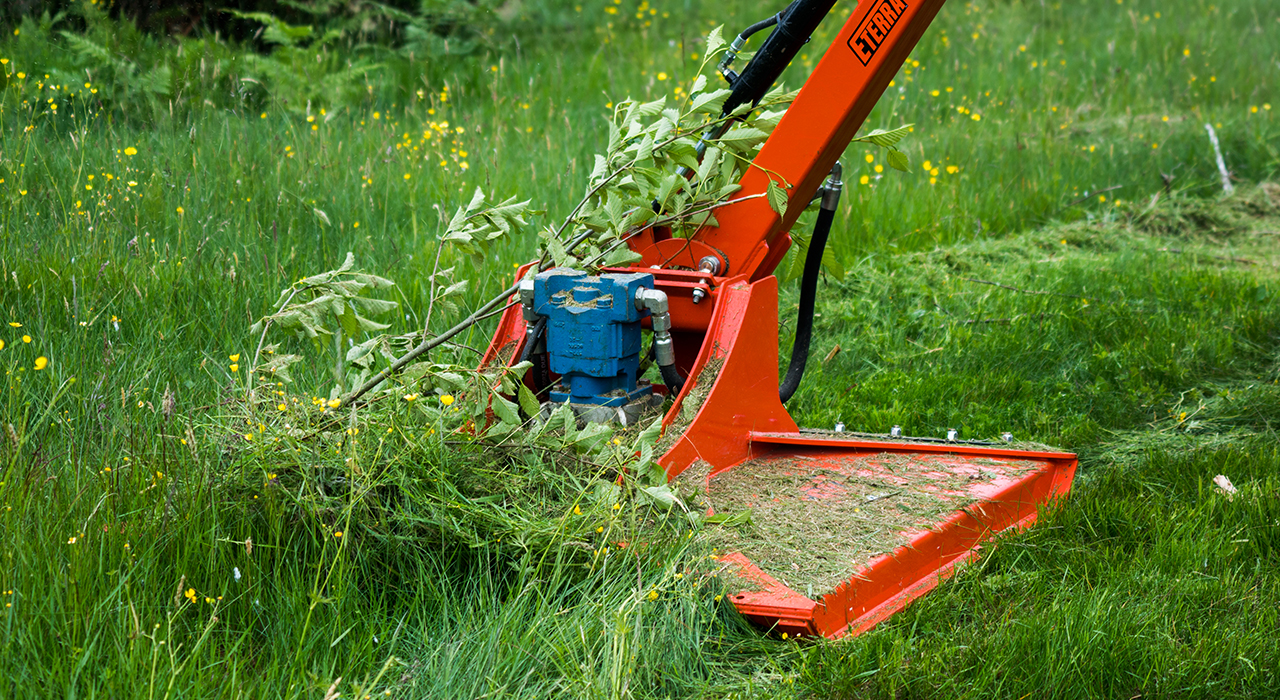 In terms of its inner mechanics, the power of the 9 lb forged double-sided Permco USA motor blade used in all of our cutters is attached to a 1" thick T1 grain controlled blade bar design and electronically balanced. This is a more effective alternative to other rotary mowers on the market that are comparable to a small grass cutting knife because they use a brush hog style blade. In addition, the Cyclone's direct drive spindle hub is found also in the full-sized Typhoon mower, which proves that quality is never compromised for size.
To learn more about Eterra's Cyclone Rotary Mower, please visit: eterra-usa.com/ or call 201-730-2538.
A product demonstration can also be viewed here: https://youtu.be/WIipPj_Q3Gs