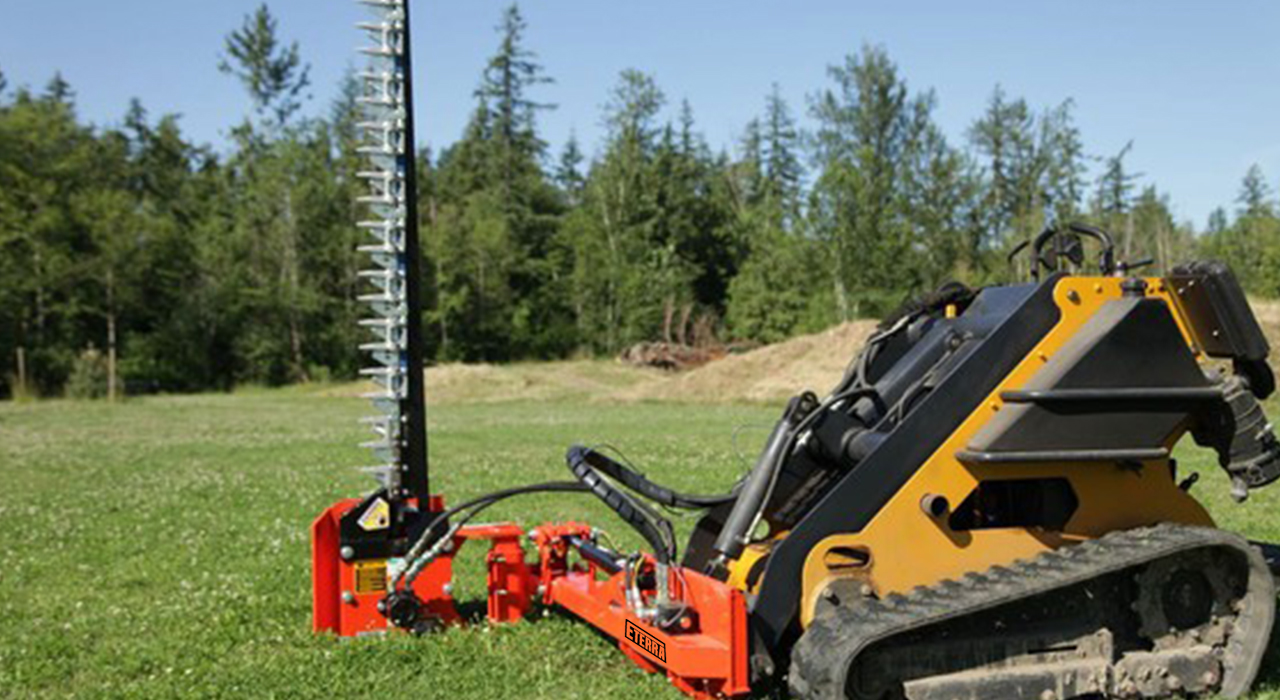 The biggest complaint among skid steer owners is being unable to cut material alongside roads. A close second is finding an attachment that has the ability to simultaneously cut and brush materials such as hay while driving forward. Eterra listened to these requests and released the Eterra Skid Steer Sickle Bar Mower for Skid Steer Loaders a little over 10 years ago. The positive feedback we received from customers all raved about the product's "cost effectiveness." Compared to other side mount clearing methods, a skid steer sickle bar mower is the most inexpensive and effective option.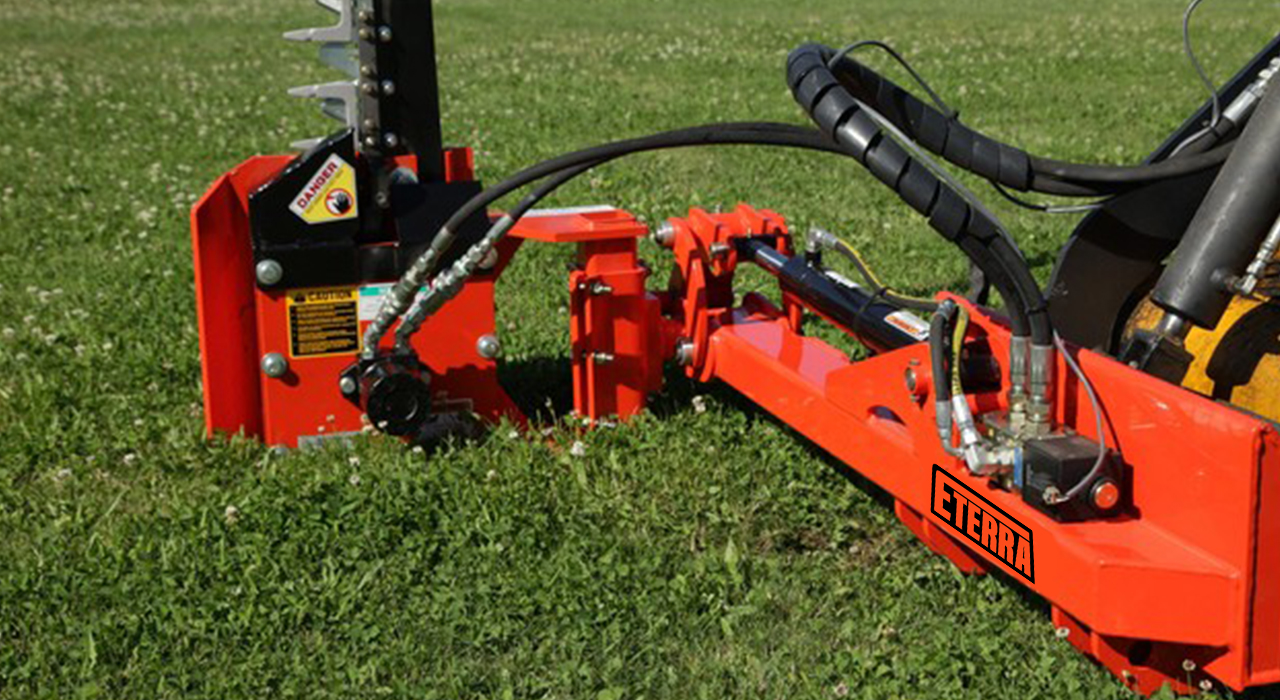 However, while customers were pleased overall with our Eterra Skid Steer Sickle Bar Mower, the size (of both the attachment and the skid steer) proved problematic for more detail oriented tasks such as working closely next to ditches or ponds without damaging the terrain. Considering the possibilities of a mini skid steer style machine in maneuvering tights areas, Eterra quickly realized the need for an attachment that works with, rather than hinders, the functionality of a smaller machine. Because our sickle bar boom mower for skid steers has been a success since its release, we played with the possibilities of adapting the sickle bar boom mower specifically for a mini skid steer loader. Testing our prototype in situations that usually proved problematic with a full-size boom mower, the production of Eterra's SR-100 is proof of the prototype's success. This sickle bar cuts up to 2" of material and comes equipped with an articulating coupler system. Do not underestimate the mere 3 foot arm (total of 6.5 feet of side cut in addition to the 5 feet of the cutter) because this attachment replicates the full power and range of mobility expected of our full-size boom mower.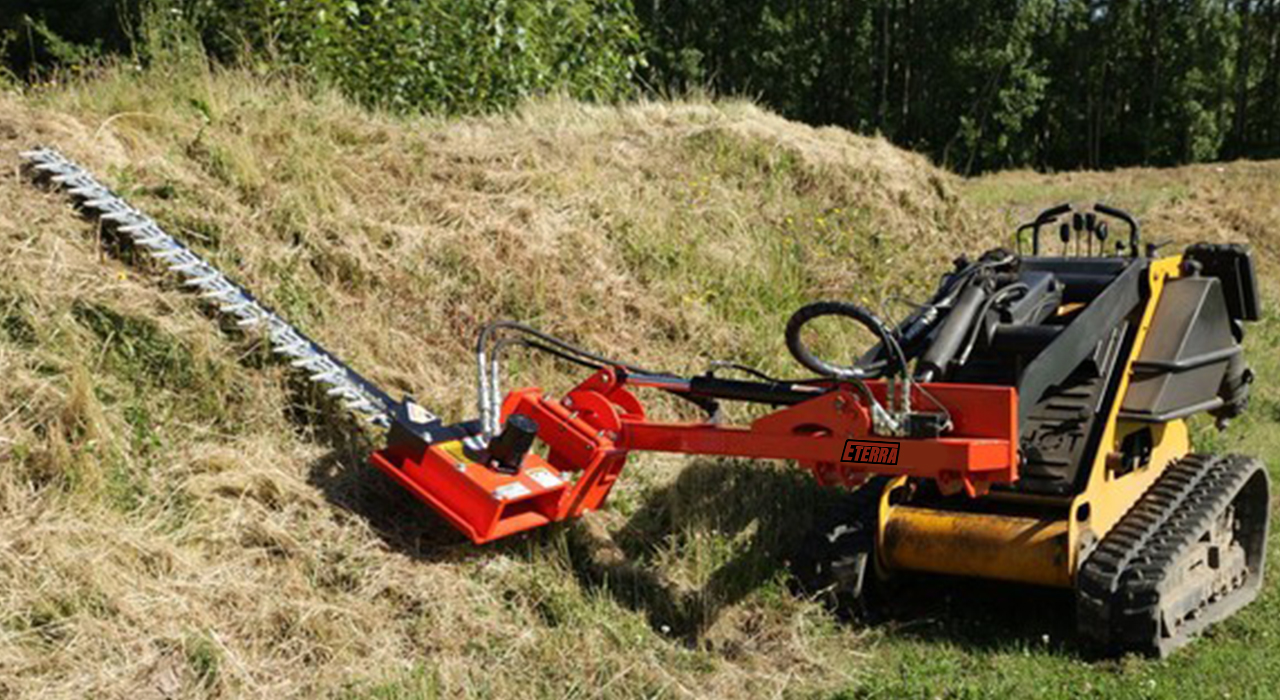 An innovative technology found exclusively on the SR-100 is the Eterra designed and engineered 5 ft Pitman style cutter. This groundbreaking technology is capable of working both above ground and underwater. This not only doubles the number of possible tasks an operator can accomplish, but is an excellent safeguard against accidental water damage. This decade old design is being continually improved, as is the case with any Eterra engineered product.
The Eterra commitment to always improving existing products is the reason why our products require little maintenance. The Pitman arm and rotation joints only require periodically greasing. While we like to see our products as invincible, we do not want to punish our customers for any inevitable "wear and tear" damage. The replacement of teeth cost a little over a dollar, and, like all of our products, this attachment is covered under a 1 year warranty. Do not be surprised if this attachment outlives your machine; however, not to worry because the mini universal attachment plate means this product will adapt to any machine.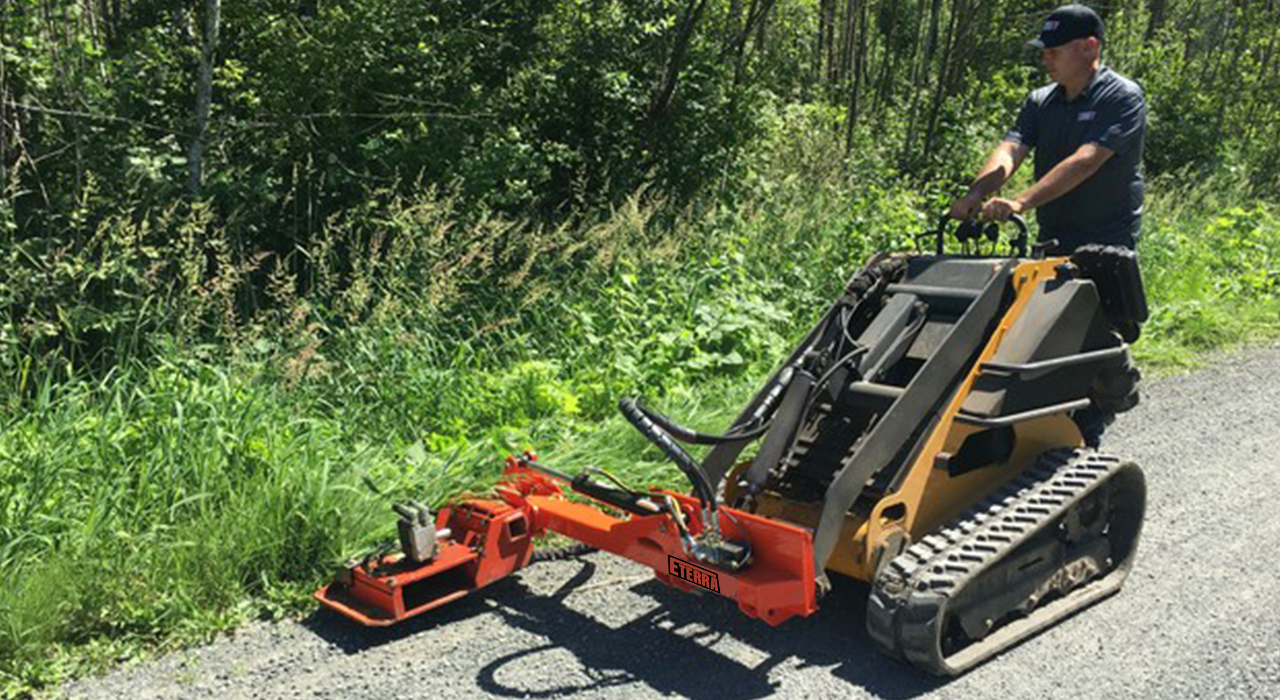 Note: this product was not designed for tractors or full-sized skid steers. The lack of break-away on this attachment means there is a likelihood for collapsing if the cutters comes in contact with a solid item. Such damage is not covered under warranty. For a full-sized skid steer, please refer to the Eterra Sickle Bar Mower for Skid Steer Loaders.
Visit our website www.eterra-usa.com for more information about Eterra Attachments and landscaping solutions.